In practice, the Scrum/Agile way of working seems to work best in a greenfield. The ideal approach is for one or two development teams to set up and maintain an application landscape. As soon as there's a complex environment with a lot of legacy and interdependencies, more help is needed. This is why more and more established organizations in particular are becoming familiar with the Scaled Agile Framework, SAFe. What are the concrete tasks of a SAFe leader?
Why scaling is often necessary
Speedy innovation on a large scale can only be achieved if several teams work on a single product or service. In order to ensure the successful completion of such a project, these teams must work closely together. Scrum doesn't make provisions for this, but the SAFe does. In SAFe, the teams work together on a product in what are known as Agile Release Trains (ARTs).
The challenge of SAFe
SAFe is a great method for scaling Agile. It guarantees flexibility at all levels in the organisation, because it still entails autonomous, self-managing development teams. At the same time, the focus lies on the organisation's objectives and cooperation within the ART. This creates tension. So the transition to a SAFe organisation isn't a forgone conclusion.
Leadership is required
In order to successfully steer a SAFe implementation in the right direction, leadership is needed at all levels of the organisation. By this we don't mean managers who make decisions from behind their desks based on complicated spreadsheets, but people who like to get involved and help the teams to constantly improve themselves.
The tasks of a SAFe leader
What are the concrete tasks of a SAFe leader? Here is an impression:
Creating a sense of urgency and support for change.
The SAFe leader solves potential bottlenecks, makes an implementation plan and supports the transition to a SAFe organisation.
Designing a learning organisation in which teams and employees have the space to learn from each other and from their mistakes.
A SAFe leader inspires employees and encourages them to get the best out of themselves and the team by calling on their intrinsic motivation.
Communicating a clear mission and vision, so that teams and employees know precisely what they have to do.
The power of decision regarding tactical and operational matters must be placed as low as possible in the organisation, so that the teams and employees themselves are responsible for their work. The SAFe leader ensures, for example, that the teams don't have any issues with procedures and impediments.
Read more about SAFe on the Scaled Agile website.
---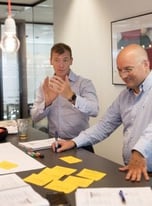 Want to find out more?
Are you interested in the Scaled Agile Framework and how you can implement it successfully?
To start with, we are offering Leading SAFe and SAFe Program Consultant courses. During the course you'll learn precisely what is needed in order to lead the change, or to implement SAFe, so that your organisation becomes even more productive and effective.