Ralph Hofman is an experienced consultant in digital transformation. He's worked with leading industrial manufacturers such as ASML, NXP, JDE and many others. And today, he's excited. "The Agile way of working has been out of reach for much of the non-software industry for decades. Now, it's slowly making up to change the history of industry. With this event, we're bringing it to them."
July 2nd will see the Agile for Hardware event, hosted by Agile training agency Gladwell Academy and BlinkLane Consulting. The event looks to be a meeting of the minds for several hardware oriented industries, and Ralph Hofman will be chairing the sessions.
Finally, for hardware, too
"The promise of Agility is such that companies all over the world are pursuing it, but so far it's been out of reach for most of hardware development and design engineering. In recent years though, some breakthrough new methods and frameworks have been released by a number of forward-thinking agents – and we're proud to be bringing that thought leadership to Europe. This stuff is looking to change the course of industry."
Speakers with ground-breaking insights
The event will see an impressive list of speakers coming to the Heineken Experience venue in Amsterdam to present their ground-breaking work. "We have Robin Yeman from Lockheed Martin coming to explain how they succeed in making their product using cyclical iterations by small, autonomous teams. We have NXP and ASML joining with case presentations about how they've drastically shortened their time-to-market for machinery that costs billions of Euros to develop.
We also have startups joining in with some pretty nifty cases: battery maker SKOON for one, and RiPL, a startup within Damen Shipyards. These are bold pioneers, and I'm thrilled that they're willing to share their work."
Reasons to join:
Hear how world-leading companies including Lockheed Martin, ASML and NXP manage the changing requirements in their product markets to stay ahead of the competition
Attend workshops and breakout sessions to find solutions to the burning questions in the industry
Engage in valuable networking, make new connections, share views on the latest industry trends and enjoy a tour in the iconic Heineken Experience.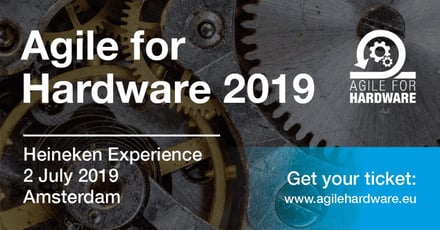 ---
Reserve your seat today!
The Agile for Hardware event by Gladwell Academy will be held at the Heineken Experience in Amsterdam on July 2nd. Seat sales are starting to pick up, so be sure to reserve yours today to join this game-changing event. Registrations can be made at www.agilehardware.eu.
For group registrations, contact us at info@gladwellacademy.com.