Gladwell Academy is again FD Gazelle 2018! For the second year in a row Gladwell Academy is nominated as one of the fastest growing companies in the Netherlands by the Dutch newspaper Financiële Dagblad 's FD Gazellen -awards. The final results of the rankings will be published in the middle of November.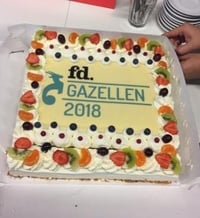 "We are extremely happy and proud of this achievement. We have seen a constant, sustainable growth in our revenue, and our international expansion is paying off", Willem Tibosch, COO of Gladwell Academy says. In only four years, Gladwell Academy has expanded its training functions internationally, for instance in India and France.
Criteria of the award:
The most important criterion for qualifying for the FD Gazellen Awards is:
A turnover growth of at least 20% over a period of three years
In addition, the additional conditions apply:
The turnover growth over the three-year period is uninterrupted;
In the first year the turnover is at least € 250,000;
Economically active at least on 1 January 2015;
In the last year the net result must be positive and loss-making for a maximum of one year in the previous two years;
Companies must be financially sound
Gladwell Academy trains professionals at the intersection of management, IT and innovation. Data and technology have a growing impact on all aspects of working life; Gladwell Academy teaches people to master each of these and get the best their position, passions and roles.