Gladwell Academy SAFe Program Consultant Trainer (SPCT) Anand Murthy Raj will present this year at the European SAFe Summit on June 10…. remotely! Here is an exclusive first look into the topics and ideas he plans to discuss.
Anand's 'a-ha' moment

Anand has spent over twenty-two years working in IT in a wide variety of roles beginning as a developer. As a product developer in 2009 he was introduced to "a new way or working. I was totally shocked to discover the whole project was being done with all the requirements being flexible. I went to the client and told him 'man you are making a big mistake,' and he only replied 'Welcome to the new world. Where we believe we don't know the requirements and develop the system based on the user's needs.' That was something magic for me, I've loved the way Agile works ever since."
From these first tentative steps Anand began his Lean-Agile journey. He was introduced to the Scaled Agile Framework (SAFe) in 2013, and began his training for his SPCT certification in 2016. Since then he has taught over thirty-three SAFe Program Consultant courses.
Changing the thought process
"One of the toughest parts of the trainer's job is not to teach SAFe, but to change the minds of people to accept new ideas. I refer to this change as the Lean-Agile mindset journey because it is never finished; a Lean-Agile mindset is not a destination it is a journey of constant learning that can never be completely achieved. There is always more to learn, new ideas to consider, and more people to share with."
An Agile storyteller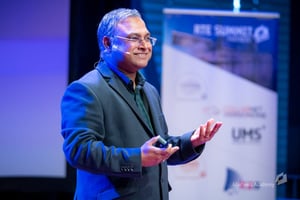 "From my own experience and research I've found that stories are able to communicate the Lean-Agile mindset better than just lecturing. I've found sharing these stories is often more effective at showing how powerful having a Lean-Agile mindset can be." Anand's stories come from all sorts of different perspectives: from how John and Washington Robling built the Brooklyn Bridge, an Indian product manager who overcame an injury using yoga, and using Giant Sequoia trees as a model for a SAFe organization just to name a few of his plans to tell 'around the campfire.'