After delivering a most inspiring keynote presentation on the Lean-Agile mindset at this year's RTE Summit, SPCT Anand Murthy Raj joins us to further explain how to successfully embrace the Lean-Agile mindset and the success that flows from it.
What do you mean by calling it a mindset?
"When we talk about the Agile mindset, it's important to understand that a mindset is a personal belief system. Very often when we are faced with a problem, we think that only one solution exists – and that's exactly what a mindset is. A problem always has multiple solutions, but so often we believe that our own mindset is the only way to successfully solve a problem, but this is not the case.
"We've always followed a certain model to run organizations: leaders at the top drive ideas, the managers manage processes and the people execute them… but things have changed dramatically. While we still have leaders, they now drive visions; managers act as coaches and the teams at the bottom self-organize in line with the organization's vision. This change in thinking is what we call the Lean-Agile mindset."

The shift in customer needs
"Looking back 20 to 30 years ago, we were focused on converting existing manual processes to computer programs and we knew this was what customers exactly wanted. But today, that's not the case. You can ask your customers what they want, and they don't actually know…they just have a faint idea. They don't know what they want, but they know where they want to go.
Today, software engineers no longer follow processes blindly: they develop hypotheses that can be tested instead. These hypotheses have to be validated quickly but to do so, there must be a control and demand structure. You need to give people the freedom to try different things at work, the old way of working is quickly becoming outdated and it's becoming essential to test new processes, fail…and learn from our mistakes. From failing we learn, and learning is the most essential part of today's development culture."
Achieving the Lean-Agile mindset
"To get the Lean-Agile mindset, it demands that we shift our habits in the way we are working. We need to start believing in ourselves and develop a passion for problem-solving, once you start empathizing with the customer, you'll begin to truly understand what their problems are. But still, you have to go through multiple experiments and tests to solve and validate their problem…a continuous innovation culture is necessary."
"If you're sitting in India trying to solve a problem in the Netherlands, you won't be able to solve the problem…you have to go to the Netherlands, sit with the customers, understand their problems and only then can you solve problems with meaningful solutions. This is exactly how software development is changing today and to do that, we have to change the way we think."
He pauses: "And that's essentially the Lean-Agile mindset."
Achieving the Lean-Agile mindset as an organisation
"I look at the Lean-Agile mindset as a dual-path model, made up of living out the values and speaking about them. Leaders need to understand that failure is inevitable and instead of seeing failure as a drawback, they need to reinforce continuous learning among the organisation to succeed. However, continuous learning needs to be integrated on both a personal and organizational level, and the organisation cannot change if their people don't.
So, at the end of the day, if you want your organisation to reach the Lean-Agile mindset, you'll have to work towards changing every person in the organisation. And that's the only way to succeed in the competitive decade of the 20's that we will be in shortly."

---
About the author – Anand Murthy Raj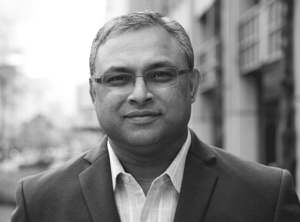 He is certified SPCT (SAFe Program Consultant Trainer) and a leader with a vision to bring in great difference and excellence in the organization there by multiplying business/value to achieve greater heights. He has 19 years of experience in the IT industry through which he brought in strong management background and versatile experience in Agile Coaching.