Here's a few tips and tricks how we organize remote classes to encourage active engagement, participation and interaction for participants involved.
Interaction via technology

When teaching via a video screen it is important to note how interactions are different compared to the traditional classroom. The trap to avoid is when participants 'sit back' and become passive receivers of information rather than active learners.
We have a few strategies to counter this:
Participants should have both their own video feed turned on as much as possible and be tuned to the feed of the instructor and their peers.
Our instructors avoid actively muting anyone, leaving it to the people themselves to apply mic discipline. They do!-
We set aside frequent moments for people to talk to one another. Whether during class instruction, group activities, or even casual conversation during breaks.
Phrasing questions and class discussion differently
As mentioned, participants in a remote classroom may feel inclined to receive information instead of building knowledge. With participants less likely to interject with their own experiences and context during the class, it is up to the instructor to encourage interaction more. The best way to do this is to simply call on participants (specific participants, by name) to share their opinions during class discussions.
This plays into how our instructors handle asking questions when training remotely. Asking a question to the entire group may result in the dreaded sound of crickets chirping. Rather, we direct questions specifically: "What do you suggest here, Marie-Antoinette?".
---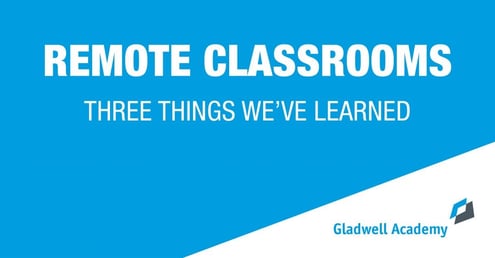 Read also: Three things we've learned
---
The Importance of breaks when remote learning
While it is crucial for energy levels to have sufficient breaks from training, this is even more true during remote classes. Participants simply find it harder to stay focused. One hour of training, ten-minutes break, is what we subscribe to.
---
Witness the energy!
Gladwell Academy has been hard at work adjusting both our course content and our tried and true Agile trainer's techniques and skillsets to accommodate the transition to remote classes. Learn more about everything Gladwell Academy is doing to offer learning today!