If you thought Business Agility was a new-fangled concept, you're in for something yet. Anand Murthy Raj says he will apply not just Business Agility as a curating concept, but also Emotional Agility – and he takes time to explain just what the latter entails.
"Business Agility for sure hasn't run its course and it will instrumental in curating Scaled Agile India," says Anand. "There are still scores of firms experimenting with ways to integrate business functions into the Agile organization. Recently though I encountered an altogether different explanation of what it means to be Agile – and it's one that I think deserves far more attention."
What is Emotional Agility?
"We talk a lot about the 'Agile mindset'. It's a view of the world that suits Agile professionals: fluidity in terms of your role description, an iterative view of product development, an openness to organizational change, a Pi-shaped competence profile, a customer-oriented approach to goal-setting. Transparency of expectations management. All those things.
All well and good, but many of these are all rather cerebral. What is underlying perhaps is a realization that we are not governed by our brains at all, but rather by our emotions. This is true to the point of being cliché. Now, I believe that the degree to which you are capable of recognizing and anticipating how your emotional turbulence impacts you, is your emotional Agility.
I draw heavily on the work of Susan David, who literally wrote the book on the subject: Emotional agility – Get Unstuck, Embrace Change and Thrive in Work and Life. Out since 2017, it's a fascinating read.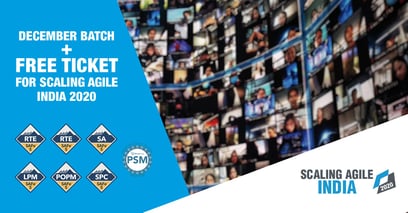 The facts are your friend?
We often tell each other that 'the facts are friendly'. Well, to someone in a transformation the facts can be pretty intimidating. Oh, our transformation isn't nearly done yet, we're behind on KPI's, we're forced out of our comfort zones. An emotional knee-jerk response is fear. Fear causes rigidity, the father of which is denial. "Nope, no issues here: everything is going fine." Rigidity and denial.
So how to go about these intimidating facts with emotional agility? From Susan David's work I take the acronym NASA: Name it, Accept it, Step out, and Act. First, you name the emotion: I'm experiencing fear. Then, don't deny it: Accept it. Then, Step out of the emotion: externalize it by rephrasing. 'I notice that I'm experiencing fear.' Now that you're phrased the emotion as an observation, you can choose to Act according to your values, rather than dictated by that emotion.
Virtual means global
So what does it mean that SCAIN 2020 will likely be a virtual gathering? "Well for one it means we can ask anyone we want – a lot more possibilities than usual. Expect a scintillating line-up."
---
More from Anand Murthy Raj?
This is just one of many interesting contributions that you'll see at SCAIN 2020, where SPCT Anand Murthy Raj will act as chairman again this year. Expect fascinating encounters that paint both the best practices for today as well as far-reaching perspectives into tomorrow. Ticket sales for SCAIN 2020 have just opened. Get yours today!