The SAFe Program Consultant (SPC) course is a relatively new program – one that, upon successful completion of the SPC exam, will lift your knowledge and can lift your network and career, to a new level. According to thought leader Anand Murthy Raj, Asia's first SPCT, the certification unlocks a world of SAFe Program Consultant jobs as it transforms the scope and impact of your work.
SPC certification: next-level Lean/Agile coaching
The Number One question I get from those who are thinking about a certification program is: 'Is it worth it? If you want to know what the SAFe Program Consultant certification can do for you, it's quite simple: for those working in the field of Lean/Agile in their daily work, this course brings a deeper, robust understanding of the Lean/Agile principles and practices. And the certification is a formal recognition, supporting you in the next step of your professional development as a Lean Agile coach as it enables and supports you in training others.
There's also a lot of market value, as SAFe is becoming the leading way to adopt and professionalize Agile practices on a larger scale. For some individuals – for example consultants – SPC certification is a prerequisite to even apply for certain assignments. And as a note, this certification is recognized internationally, which makes it even more relevant and interesting for those working in international companies or environments. It's a great proof of your skills because not everyone passes the SPC exam.
Is SPC Certification for you?
The Number Two question I get from people thinking about a program is: 'What do I need to take part in this course?' It would be good if you have at least some experience with the Agile way of working. For example if you have worked with Scrum or Kanban, if you have some experience working with multiple teams – and the best of course is if you work in an environment where SAFe has already been adopted and you have hands-on experience and insight into the practices, rituals and roles in the framework. That's where the value of this 4-day training really soars.
Train the Trainer: You!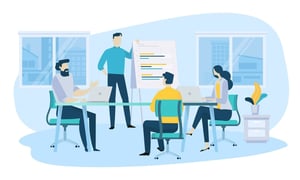 One of the most interesting options open to those with SPC certification is that they actually become consultants (as the name implies), able to support and train others about the Scaled Agile Framework and helping them to adopt Lean/Agile practices. As a SPC you are allowed to give most SAFe trainings yourself. That means you can conduct a lot of trainings internally – a great and economical way to up skill your organization. What's better than to train and guide your own pool of consultants? It leads to a more robust change, and you have internal people who can help you with the next steps. When you start to adopt and professionalize Agile practices – you will discover more and more things to improve, there are always more opportunities to be found once you understand the Lean/Agile mindset. You need companions along the way.
An international network, inspired learning
One of the great things about the SPC course is that you are in a room with up to 30 other participants, all of whom are eager and willing to learn to take the next step. It's really inspiring. What could be better than being with so many peers from all around the world, all with a considerable level of experience? It creates a lot of enthusiasm, bonding and creativity during the four training days.
And this is self-selecting, meaning that those who attend really want to be there and have either requested it from their organization or – in some cases – even paid for it themselves. It's something people want to go to on their own initiative, and they are keen to learn. It creates a special atmosphere, one that is quite unique and doesn't happen very often in the world of training.
Brilliant trainers make a difference
The same is true of trainers from Gladwell Academy. It's a big advantage that we have inspiring trainers who are experienced consultants in daily life as well. They actually practice the lessons they preach in real life and deliver world class examples. And because of that, they know from their own experiences how hard it can be to change. Gladwell trainers aren't just professional trainers or coaches, hired to deliver information; they are all active in the field. Meaning, they work with organizations like Air France/KLM, ASML and Achmea to support the adoption of SAFe. So every Gladwell Academy training, including the SAFe Program Consultant 4-Day Certification training, comes with a lot of practical and relevant examples of how things do and don't work.
______________________________________________________________________________________________________