For Gladwell Academy trainer Sathyanarayana H R, spreading the awareness and adoption of SAFe has been his bread and butter for many years. Soon though, he's likely to dive one important level deeper, becoming the second person of India to join the small community of SAFe Program Consultant Trainers.
"The SPCTs are a small worldwide community of SAFe Agilists that work together with Scaled Agile and Dean Leffingwell to improve SAFe. They contribute to new iterations of SAFe, they add their experience and insights to the Framework. They are also the only trainers that can train SAFe Program Consultants, of course. It would be an honor and a privilege to join, and last month was a big leap towards that goal."
Boulder Immersion week
Last month saw Sathya visit the so-called 'Boulder Immersion week', when all the SPCT candidates are flown in to Boulder, Colorado in the United States to be introduced to Scaled Agile, Inc.
"It was special, to say the least. They warmly welcomed the four of us SPCT candidates, really taking time to show us what they're doing and speaking at length about what drives them to keep building SAFe. They also invited us to show them what we're made of, and naturally I did my utmost to make a good impression."
Innovative Indian business
"I was asked to explain what I'd do with my SPCT title. I explained how I'd use SAFe to build the innovative competence at Indian businesses which enable them to develop product and solution to solve complex user and society needs. Also, my focus would be imparting quality training to create good change agents who can help organizations to transform to SAFe.
Comparing notes with the greats
I was also asked to train in a simulated setting with several experienced SPCTs there watching. I trust my experience and my knowledge so I could take the added pressure well, but it was impressive, nonetheless. The original author of SAFe, Dean Leffingwell himself was there after all…!
"As a group, we were constantly comparing notes: how we'd approach a variety of contextual situations, what to advise when encountering this, what to do when that happens… Fascinating to go so deeply into the matter with so many experienced Agile minds present!"
To do: a bit more experience
"All that remains is to complete few more backlog items and rack up a few more hours of co-training with other SPCTs to enhance experience and knowledge. I have several courses lined up in the coming months, so that shouldn't be a problem. In all, I expect it's a matter of time before I join the small privileged community of SPCTs. Something to look forward to!"
---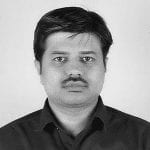 Sathyanarayana H R
SAFe Program Consultant Trainer (SPCT)
|I: www.gladwellacademy.in
|T: +91 98445 58846
|E: Sathya.hr@gladwellacademy.com