"The human mind wants certainty everywhere. But that's far from what we have in reality. Markets are harsh and dynamic. Customer needs are continuously evolving. Navigating through all of these challenges and truly understand the unarticulated needs of the customers is the essence of design thinking," says Anand Murthy Raj, Associate Partner and SPCT at Gladwell Academy.
"In today's world, we cannot apply linearity anymore. The phase wise approach to problem solving is not the right approach to deal with today's challenges. We have to believe that we cannot possibly know everything at the beginning. Design thinking is a continuous, non-linear process. This is the way we must solve complex problems and build innovative solutions," explains Anand Murthy Raj.
"Innovation is a journey, not a destination."
The design thinking process starts with a clear intention, identifying the problems and exploring them from multiple angles. We investigate numerous options to solve the problems with various quick prototypes providing validated feedback on our approach.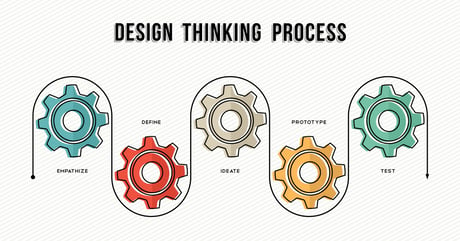 "This is by far the most wonderful phase!" says Anand Murthy Raj when talking about the prototyping. "We need to know what to prototype,
when to prototype and how much to prototype. And finally, you need to know how to scale. If you cannot scale your product, then what's the point in spending so much time and money!"
With design thinking, we want to fail early. We want to validate early and revalidate our hypothesis. We should learn the art of thinking differently, innovating, pivoting and giving up ideas when we realize it's not right.
So, constantly coming back, going forward, validating and trying to come up with new hypothesis forms the most adorable journey in the design thinking process.
Design thinking in businesses
We are wired to expect certainty upfront. But that doesn't happen in today's world. So, how can organizations adopt the design thinking approach?
"Nurturing a design thinking mindset and evolving it into a culture is the key. Organizations have to get into a mindset where people and leaders ready to fail, however the failure must be survivable. And always accept the fact that the first time may not be right. We have to live in uncertainty and slowly get into certainty," explains Anand Murthy Raj.
Anand talks about getting into the growth mindset than the fixation mindset as explained by Dr. Carol Dweck.
With the fixation mindset, we tend to stick to the set of patterns that we know to solve problems. But in the growth mindset, we focus on continuous learning through experimentation. We learn how to deal with failures and learn from them. We embrace challenges. We get comfortable with uncertainties. Cultivating such a mindset in an organization would make a whole lot of difference to the value we deliver to the customers.
Design thinking and Agile
"Agility is not just about speed. It is about building the right solutions predictably in an unpredictable market. Actually, trying to solve the right problems is also a part of agility and that is what design thinking does. It helps us to understand the core problem and solve them through multiple ideas. The foundation is design thinking and how quickly we build on top of that is the agile way of working," answers Anand Murthy Raj. He goes on to emphasize:
"As explained by Dr. Pavan Soni, Design thinking is not about design. It's about the thinking and approach to solve complex problems. It is time for us to look at solving complex problems with a human-centric lens when things that can be automated are taken by machines."
---
Design thinking training
During the Design thinking training at Gladwell Academy, we focus on giving hands-on experience for the participants.Instead of just going by the theory, we ask the participants to apply the concept with a problem statement. We help them create empathy maps and customer personas and build ideas.
If you're interested in the training, reach out to us via info@gladwellacademy.in or call +91 96201 57066.