Pioneering Agilist Robin Yeman has been exploring Agility at defense hardware manufacturer Lockheed Martin since 2002. She prefaces her upcoming contribution to the Agile for Hardware conference on 1 July with an offer: "I have several projects I could discuss. How about I give you three options, and readers can choose which one they like?"
Vote for the best topic by clicking here!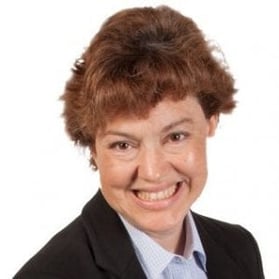 Her personable demeanor hides a true Agile powerhouse: Lockheed Martin's Robin Yeman has been innovating the development process for hardware environments since 2002, when her company first took an interest. "We started with Agile principles in software development like everybody else. But pretty soon we were exploring: to what extent could we open up hardware development in a similar manner?"
Robin Yeman
Learning project by project
"Since then, I've been involved in a long series of projects. Each one introduced new and liberating approaches to hardware development. Recent projects include Aegis, a combat system that involves radar bases and other hardware components; Orion, our next-generation space capsule that's set to take astronauts behind the Moon, and the F-16 and F-35 fighter jets."
"First the bad news: I'll be skeptical of anyone that says we can build hardware just as flexibly as we build software any time soon. You can set timeboxes, hold standups and jump high and low, but once you start 'bending metal' you'll have to deal with long lead items. It's steel, not code.
Feedback is key
"The battle we can win then, is everywhere before we get to that point. We use 'digital twins' for example: 3D computer simulations of prototypes. Also printed modelling, use case prototyping and other methods. The goal: feedback, feedback and more feedback, to tackle as many issues as we can before we start bending metal.
And most Agile practices you apply to software development can apply to developing hardware, with some caveats. We apply a modified version of continuous integration we call continuish integration, for example. And we Scrum, we apply DSDM methods, and SAFe also works really well… These things aren't domain-specific."
Options for the keynote
"While I'm looking forward to visiting Agile for Hardware, I'm still deciding which case or which cases to present… so here's a few options.
We have a laboratory environment hardware team that's working on a glovebox for use in deep space, which is a telling example of the power of prototyping.
We're also building a fleet ballistic missile where we demo and review the breadboard every sprint, which saves enormously on custom circuit boards.
Or, I can discuss our digital twinning practice, which enables fast feedback on hardware concepts. Incredibly helpful for the development of both the F-35 and Orion.
I'll also share a number of observations I've made for applying Agile ideas to a hardware space. And depending on the audience, I can pretty much discuss implications of working Agile for any domain, since I've had to deal with pretty much all of them over the years. It should be fun!"
---
Meet Robin Yeman at Agile for Hardware 2019 conference!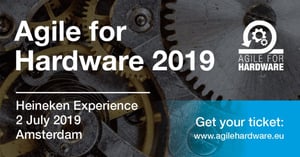 The upcoming Gladwell Academy event Agile for Hardware on July 2nd will feature a strong line-up of pioneering agents in various hardware industries. Tickets are starting to sell, so be sure to reserve your seat here if you want to attend!