Travelling around the world to train and coach people about scaling Agile is a privilege. Working as a trainer feels sometimes like working as an explorer. During the trainings I get to educate and inspire people to apply Lean-Agile ways of working. But sometimes I notice that the participants would need some extra advise on where to start from. For this, we have recently developed a new online platform.
After 2-4 days of training, your behavioural patterns might not be radically changed. One may find it hard to take self-organizing action. In other words, more support and aftercare might be needed so that you can really start to make a difference in your workplace with the gained knowledge and skills. In every class I train there are at least a few people that tell me: "I'm actually willing to give this a try, I even have some first actions to take". That's exactly what we're after!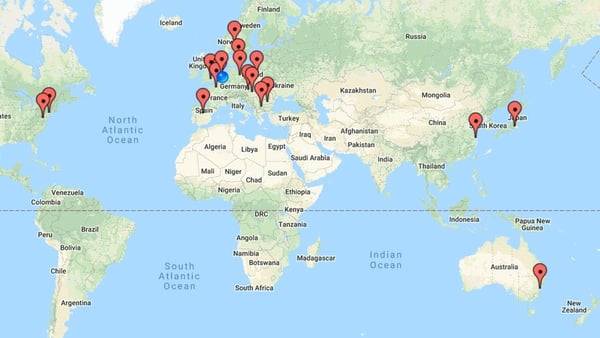 All the locations I have trained at
Gladwell Academy fuels Transformation through Education. After the classes, most participants feel either too overwhelmed by the huge amount of knowledge, or too insecure about 'the right' steps in 'the right' way for their own context. Gentle reminders and checks along the way are asked. We now want to meet these needs and are answering to these questions by offering follow-up support and coaching, as courtesy, with real value to it.
The solution: continue learning online, network with others
The Compass to Scaling Agile does just that: it offers support to anyone who took part in Scaling Agile training in one way or another. Especially for you, who want to take a leading role in transforming your organisation.
Why do we offer you this? We believe that together we can create a bigger movement. To make both yours and our time count. We'd hate to see you end up in a situation where you spent a lot of time and effort in studying and still have no control over the transformation. So, we are helping you to first get organized, then create your change roadmap with Scaling Agile Compass, then ask for specific help from me and peers only when and where you need it.
Currently our course is in MVP state, and we need your help in making it a success: Right now you can sign up for the course and pre-order it with lots of benefits. (Release date: May 1st) The course will take you through transformation stories and a digital training dojo. Your financial investment is the price of just one coach hour, and this investment we will directly re-invest in this learning platform.

You will receive:
30 minutes of online coaching by an Scaling Agile expert (Value: €99)
Pre-release date access to the course, offering you real-life examples of successful (and unsuccessful) transformation executions.
Continuous e-support in setting up & carrying out experiments of your transformation plan
Exclusive access to our online Slack community of change makers
Free e-book on Agile transformation (value: €39)
Direct access to field experts, hiring only when you need them for your transformation.
Let's make an impact towards more successful Agile transformations – together!
Pre-order now and please give feedback, we are here to listen.
Regards,
Abram Janse
---
Abram Janse
Senior trainer & Transformation Consultant
Gladwell Academy & Blinklane Consulting
P: | +31 6 27 224 568
E: | Abram.janse@gladwellacademy.com
Certified SPC4.0, SPC co-trainer, LeSS Practitioner, PSM, PSPO, Agile PM, Prince2 Agile, Sociocracy 3.0