Part 1 of 2
"The crisis consists precisely in the fact that the old is dying and the new cannot be born; in this interregnum (gap) a great variety of morbid symptoms appear." – Antonio Gramsci, political theorist.
There are absolutely no one-size fits all, just-tick-the-box solutions in an agile environment. Instead, leaders who want to manage with the Lean-Agile mindset need to learn to organize safe environments so that others – through engagement – can come to the next steps of effective action. To get the knowledge and practices of the Scaled Agile Framework (SAFe) certifications, like the Implementing SAFe (SPC), into the organizations' very foundations, leaders actually have to expand their understanding of what it means to manage and lead. And that, says Abram Janse, Senior Trainer and SAFe expert at Gladwell Academy, is the real challenge: expanding your mind(set). In this two-part blog, Janse gives his expert perspectives on the challenges – and rewards – of expanding your mind and becoming a SAFe Agilist.
Changing behavior
"Becoming a SAFe Agilist isn't easy because it involves changing behavior," says Janse, adding that many people who come to a Leading SAFe training tell him they aren't sure they can give up their 'safe' old ways of thinking in exchange for greater uncertainty. "The reality is that the management tasked with organizational transformation through the Scaled Agile Framework is largely composed of technical, IT managers; they keep trying to pin down exactly what you have to do when you experience problem X, Y or Z. And that is unhelpful," he continues, "because Agility requires incremental experimentation and continuous improvement!"
SAI Inc., the organization behind the SAFe framework, tries bridging these worlds with a somewhat secure set of essential practices and roadmap, yet the resulting model becomes less Agile. It is therefore said that SAFe creates broad and shallow change, the first stepping stones for large hierarchical organizations moving towards more agility.
Making the leap to clarity
What happens for participants in the intensive, 2-day Leading SAFe® 4 Agilist training that leads to the SA certification test? You can read all the bullet points – the concrete learning – but the course does much more:
It boosts managers and directors of companies to a higher place, gives them the bigger picture – one where they have the perspective to see, and lead, their organization's journey of transition to a Lean-Agile enterprise. "What we do is help them get clarity: How are they approaching Agile and SAFe now? And how can they make the leap – it's almost a literal leap – from scaling Agile up to the point of official 'adaptation' to actual organizational transformation?" says Janse of the Leading SAFe course. "It's as if through the training we give them new glasses, so they can see clearly. We let them experience what this new world of Lean and Agile and DevOps is about – and then we discuss appropriate actions."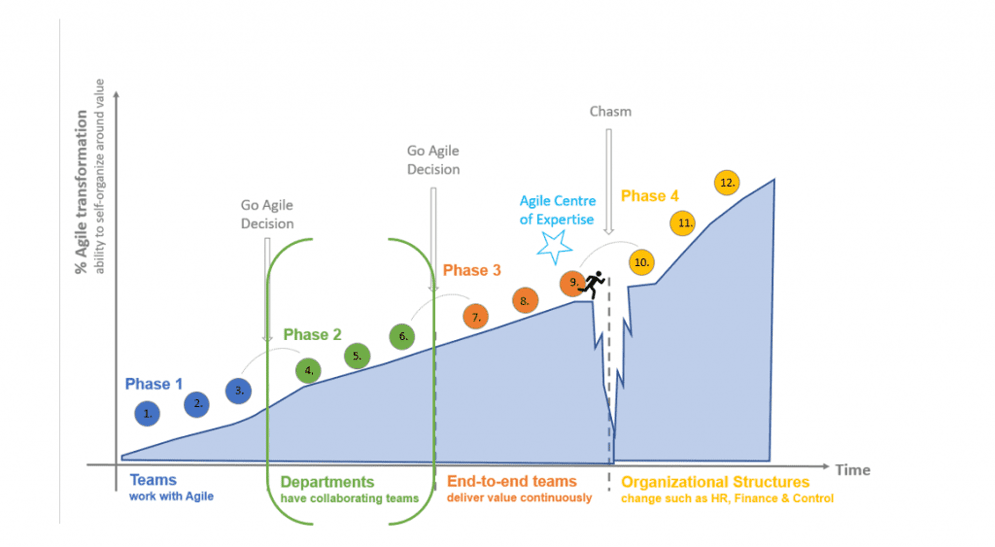 12 Steps to Agile change:
First teams experiment
Evaluate, improve and add teams
Create a vision on long-term Agility
Teams collaborate within silos
Scrum Masters convene in first team-of-teams
Frameworks (SAFe, LESS) considered, adopted
Start with first value chain and enterprise portfolio
Evaluate, improve and spread awareness
Existing structures, processes and culture become inhibitors to further change
'Jumping the chasm'
Senior management committed to full Agile adoption
New organizational structures adopted around value chains
Continuous improvement in process, leadership and behavior
---
Want to learn more? Download our SAFe Whitepaper to know more about the framework, or read more about the course.