Jenny van Rinsum and Larry Anderson are both witty personalities who like to share a joke. They also share the responsibility for a monumental undertaking at Nike: the replacement of its huge legacy ERP platform Island Pacific with SAP CAR and S/4HANA. And that's no joke, especially because it involves a cross-continental ART that has several complex dependencies with other ARTs.
"Dealing with cultural differences can make or break this effort," says Jenny. "I look forward to joining the RTE Summit because I like giving others insight into how you keep a cross-continental ART riding together at an international, cutting-edge retail giant. We have intensive Pre-PI Planning, for example – because you're only meeting in person just this once."
Waterfall by any other name
As an Agile Coach and Business Change Lead, Jenny and Larry have to be diligent in upkeeping Agile principles in an evolving corporate culture. "We regularly see people working waterfall while calling it Agile," says Jenny." It's our job to locate space for improvement, and gently plant the seed for it in people's minds. Cultural habits play a part here, too: one continent seems more suited to change than the other. Come listen for yourself to hear which is which."
---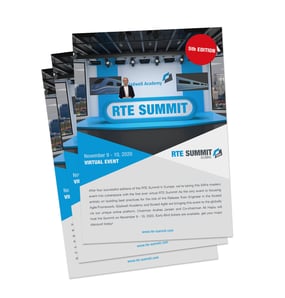 Download to flyer and have a look at the RTE Summit Global program!
---
Adoption and resistance – Nike
Larry's main concern is change management including adoption, resistance, "the people side of change". He too looks forward to sharing the case with the audience at the RTE Summit: "It isn't just the cultural differences across the two continents of the US and Europe. It's cultural differences between finance professionals and engineers, on all five continents – if you take our user populations into account."
Dealing with COVID
Finally, Jenny will contribute how COVID-19 hasn't made their work any easier: "We'll share how we dealt with the 'sensory loss', though we're also still learning here, like everyone else. Of all five senses involved, on remote you're only using two – one­, if you turn off the camera. Chatting at the coffee machine, listening in on casual banter, a quick drop-in, are all gone – so planned communication moments are so much more important."
---
Join a growing community
Hear the full story of Jenny van Rinsum and Larry Anderson at the RTE Summit Global. The only gathering catered to this exciting role, we invite you to get your tickets here, today!