To build a consultancy firm that embodies values like appreciation and trust. That combines industry, product development and transformation competence. To irreversibly improve – rather, 'co-improve' – complex industries that they know inside-out. That was the goal of founder and managing partner Dirk Meissner, some eight years ago in 2012. Three years ago, they added SAFe to the range of improvement frameworks that they practice – and today Gladwell Academy CEO Miranda Goossens welcomes them as a partner.
Dirk Meissner: "We see SAFe as the framework for Agility at scale for the German corporate market. Many of them want it, and I can fully understand why. It is the most comprehensive framework and provides a complete set of proven practices. All our own consultants are SPCs experienced in complex transformation initiatives, but they are not highly specialized trainers. The large-scale transformations of major manufacturers in Germany each come with a substantial training challenge – and we're looking to Gladwell for that competence."
The advantage for Gladwell Academy is obvious as well. Miranda: "CO-Improve has established a knowledge of and a strong business network in several German manufacturing industries. Together, we can offer these big corporations a real engine for Business Agility. They fit with us quite naturally."
First steps
For now, the collaboration begins with welcoming CO-Improve as a Content Partner for the upcoming Agile for Hardware conference in Munich on July 1st. Besides that, there are several trainings we're giving with trainers from both companies – both SAFe and non-SAFe, hardware-oriented trainings. Miranda: "It should be really interesting to hear their people contribute from their experience with the manufacturing industries."
Experts, rather than catalysts
What does Dirk see as the most immediate challenge for German industry in terms of becoming more Agile? "Mainly the predominance of experts as leaders in German industries. For years, the tendency has been to promote the most knowledgeable subject matter experts to management.
It has brought an abundance of what we call 'expert' leaders: people who assume they know best, and who prefer to prescribe to others how rather than to empower and coach. The latter brand of leaders is what we call 'catalysts': we need to engender that catalyst mindset into German corporate leadership."
---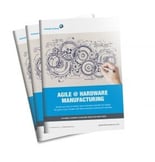 Want to read more about Agile for Hardware?
---
Would you like to know more…
…about our upcoming Agile for Hardware conference in Munich, about our offerings in SAFe trainings or our hardware training portfolio? Contact our advisor Maarten Verlaan at maarten.verlaan@gladwellacademy.com.