Yesterday's LinkedIn post by Bengt Magnus Dyrkorn of EVRY/Tieto just about sums it up for us: "…two super exiting days at the yearly RTE Summit in Amsterdam.…really inspirational talks and presentations on a variety of subjects."
Thanks, Bengt! He also mentions some of the most ear-catching topics covered: measuring of value delivery, improving flow and value throughput in product development; enhancing predict ability and how to create energy when speaking to big audiences; an update about the newest add-ons in SAFe 5.0… go and have a read of his post yourself, and from all of us at Gladwell Academy: you're welcome, Magnus! We had a great time ourselves as well.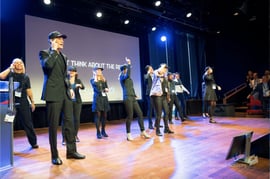 How we experienced the Summit: after a morning with some train hiccups (maybe because so many Train Engineers were with us?) Andres opened the event with a musical moment by the Gladwell crew (who expressed enthusiasm rather than perfectionism), and invited RTE of the Year 2019 Yvonne Pomstra of AirFrance-KLM to share her lessons. Musical fragments laced her insights: There is no failure, only giving up; you can't always get what you want, and you've got a friend.
Cases and keynotes
After Yvonne's candid contribution and humble acceptance of the medal, cases and keynotes came thick and fast. Joe Vallone brought us SAFe 5.0 and the RTE, shedding light on additions such as customer centricity, design thinking, the dual Operating System approach and innovation riptides.
Oliver Picht of Outokumpu delivered a headstrong exposition on how the Finnish steel giant encountered Agile ideas while attempting to advance Lean principles in the organization, and then struck a fascinating balance between autonomy and end-to-end coherence.
"Longer, in-depth talks"
He was succeeded by Alexander Wierstra and Kok Hing Cheung of Aegon Asset Management, who shed light on how they used AgileHealth Radars to assess the quality of their collaboration. They were followed by the first coffee break, where several Platinum and Bronze partners introduced their products and services.
These Summit Partners were surprised by the focus of the event, which, as Aliaksei Parasiatsyeu of TargetProcess puts it, allowed for "longer, in-depth talks that are hardly possible at big trade shows."
Or, as Annemieke of AgilityMasters.com says, "The Summit was smoothly well organized at a nice venue and we met at lot off interesting people."
Asking for help and accepting it
Dirk van Uffelen discussed both the value and the challenge of asking for help, as well as the unexpected challenge of accepting it as an RTE, along with the helpful 'Circumplex', a tool to plot communication styles.
A major aha-moment was delivered by SPCT and longtime trainer of RTEs Carl Starendal, who challenged the audience to work more with Cumulative Flow Diagrams (CFDs) and Monte Carlo simulations in humble Microsoft Excel, to build stronger arguments in planning and estimation. Highlighting the importance of mapping delays to estimate planning, he compared the RTE to a taxi driver: "They won't answer in terms of vehicle speed and passenger weight when you ask what time you'll arrive. They describe the expected congestion."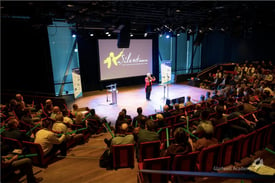 Then, after a round of workshops covering a diverse range of relevant topics, we reconvened to join in a live moment of thrilling collective music-making when Steve Barnett, the Silent Conductor appeared onstage with colored batons and hypnotic rhythms. A memorable moment, that taught us how easy it can be to involve a crowd without uttering a single word.
Agile Police Pioneers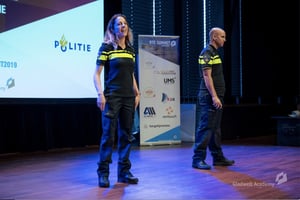 Then came Petrie Velthof and Danny de Wild, who delivered a heart-warming as well as eye-opening account of how the Dutch police force is embracing Agile Scrum and achieving spectacular results. "If these police people can pioneer in Agile, surely we inn automotive can, too," as BMW's Heiko Sundar later voiced his enthusiasm.
Gladwell Academy SPCT Anand Murthy Raj arrived to regale the audience as a master storyteller and poet. With several accurate analogies, he offered Agilists a sense of perspective and ambition. "Be the bridge builders," he encouraged the crowd.
A disruptive Solution Train
A more down-to-earth story of concrete lessons learned and transformation achieved came from Laeticia Chatiron and Florian Labadens of Airbus, who told of their experience setting up Skywise, a data-harvesting project for the Airbus fleet that they termed no less than 'disruptive'. Laeticia's tale of moving from RTE to Solution Train Engineer was especially vivid, with lessons such as 'don't protect your own teams' in seeming contradiction with learning to 'protect your own teams'.
Joris van Doorn and Lieven Verdin appeared on stage to present on their work at Signify, giving Joris's Design Team a place in SAFe as a shared service. The audience however was slowly starting to have their fill of the long and subject-heavy line-up, and it was beginning to show in the smaller numbers left in the hall.
---
---
---
---
Rack up the hugs
Leave it to Gladwell Academy SPCT Eelco Rustenburg to fire up the audience with his observation that "All of you RTEs, you work far too hard!" He advised us to simply buy two tally counters, and to just track these two variables: the amount of features completed at each PI event, and the amount of smiles noted among the people there. That was after he set a timer and told us all to share as many hugs as could in fifteen seconds. Cue ear-to-ear smiling and laughter, all around.
Now the crowd was ready to head for the bar, that excellent piece of equipment at the Bimhuis, the home of jazz in Amsterdam, where a laid-back combo was strumming classic jazz tunes and drinks were chilled and ready.
---
Are you joining us next year?

And that just about wraps up the RTE Summit for 2019. Next year's edition is the event's fifth anniversary, as Andres pointed out in closing. Do make sure you're there if you can, because we'll do everything to make it another "very well-rounded event, at a great location with an open and friendly atmosphere," as Roger Balcombe of UMS Consulting puts it. Thank you, Roger, and see you next year at the Railroad Museum in Utrecht!