It's a wrap – the 2018 edition of the RTE Summit 3.0 of November 13th was a resounding success. Here is an overview of the highlights as we saw them at Gladwell Academy; if you attended, you will doubtlessly have your own memorable moments to add.
Kick off and keynote – RTE Summit 3.0
Summit chairman Andres Jansen opened the event convincingly with a play on the worldwide Queen hit song, shouting "RTE Will Rock You" as the iconic thump-thump-clap erupted from the speakers and 135 people who joined in, the enthusiasm was noticed on several floors of the building.
RTE Summit 3.0 chairman Andres Jansen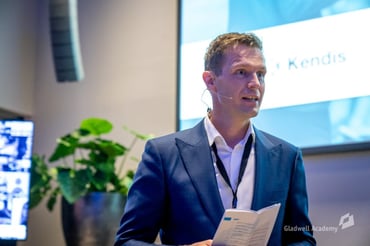 Then SAFe guru Eelco Rustenburg launched into his keynote journey. Drawing a parallel to teaching his son how to play snooker by making the game 'easy' and accessible for him to get involved in, he warned the RTE audience to not stick too rigidly to protocol and ritual as they bring Agile to their home audiences.
Another powerful metaphor first described how not to approach a failing system: when a pipe bursts in the shower, don't slam your palm over the hole shouting get me some duct tape like he did – instead, a professional plumber starts by calmly closing the main valve. Release the pressure on a failing system before you look for a solution, Eelco advised.
From the jungle to the journey
Eelco's tale of blundering around in his leaky shower was a waymarker for the series of speakers that followed. The atmosphere was candid and at times confessional: a true review among peers. Many cases went into detail about what went wrong at which point, and a lot of soul-searching and muddling through was often involved. Each case description did largely finish on a high note though. Seems that initial chaos and disorientation is hard to avoid when adopting Lean/Agile practices on a larger scale, but the clouds will part and let the sun shine through.
Safely adapting SAFe
Another pattern was that many cases described changing of SAFe to suit practice. Adding modules, such as Piet Syhler and Frank Olsen's Backlog Refinement Process. And even somewhat uncomfortable presentations, like Dennis Struis's final presentation which leaves out the RTE role altogether… It may be logical when a single framework is applied in so many different contexts, and it's actually how the generic framework is intended. The principles are always true, the implementation should respect the local context. The vigor with which each presenter admitted to tinkering with SAFe in this or that way made the framework really come alive.
Servant leaders
Dean Leffingwell, Cofounder and Chief Methodologist at Scaled Agile, Inc.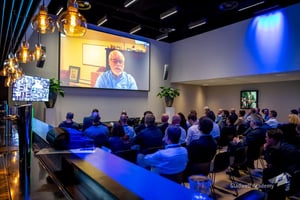 Indeed, that image of setting your creation free to thrive in the wild seemed to show in Dean Leffingwell's remote check-in as well. In a laid-back tone, Mr Leffingwell addressed the gathering, occasionally rocking back and forth in his desk chair. The founder of SAFe had doubts whether the RTE would have to comprise a full-time job, he said. He had been proven wrong, he said – it is a full-time job and at times a heavy one too. He praised the competencies he found in many RTEs: servant leaders with an emphasis on leading – from whom a lot is expected by many different stakeholders, he said.
Remote: the new black?
Heartwarming as his remarks were, they were at times garbled by a stutter in the connection. This might have been unavoidable as Mr Leffingwell was videoing in from across the Atlantic, it reminded of the earlier warning by WoltersKluwer's Gianfranco Franceschi about the importance of investing in connectivity when dealing with distributed ARTs.
It also underscored a third observable pattern in the day, of how remote ARTs (partially or fully) are very much on the rise. From Yoram Weizman's ScheduleOnce fully virtual ART, to Eduardo Alvim's Amadeus cross-company ARTs (lead by digital, because #digitalisthenewblack) the RTEs work increasingly involves getting hundreds of people from vastly separate cultures and continents to work together in sync and with zest – no small task.
Artfully driven ARTs – RTE Summit 3.0
But what shone through most visibly during the day is precisely that zest – the enthusiasm with which today's RTEs are building both their ARTs and their own 'art': the art of Engineering the Train as best they can. That dedication and sense of adventure showed in the undivided attention that each case presentation received, in the professional relevance heard in most break-time conversations, (with football club Ajax's pristine soccer green shimmering below and football hero Johan Cruyff smiling overhead in the stadium dedicated to him) and in the keen involvement seen during the entertaining workshop sessions.
Bright future
€1.350,- will be donated to Kwasa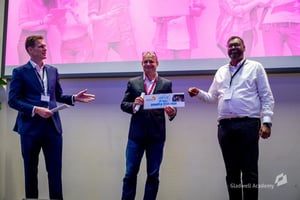 If this is the atmosphere that each attendee has brought home to their respective organizations, then the profession of the RTE has a bright future ahead indeed. We at Gladwell Academy had a fantastic time organizing the day in the weeks preceding, and we thoroughly enjoyed seeing all attendees dive in with such appetite.
We look forward to next year's edition: November 11th (Boost) and 12th (Summit), 2019, Amsterdam
Stay updated and keep in touch with each other via the RTE LinkedIn group
Available presentations & documents
Lean budgeting – Divorce checklist
---
Enlarge the image by selecting it