With the popularity of Scaled Agile Framework only on the rise, demand remains high for the SAFe Program Consultants (SPCs), the professionals who guide organizations towards governing their Agile workforce with a tried and proven approach. That in turn raises the demand for those who train the SPCs: the SPC Trainers (SPCTs). Nonetheless, there are currently less than a hundred working in the world today. It's quite the responsibility, but Niels (SPCT candidate) looks forward to it, he says.

A wealth of stories
SPCT Candidate Niels Groen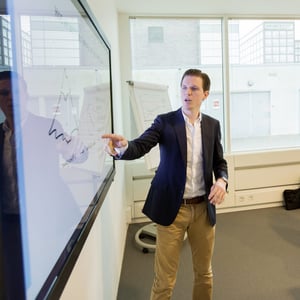 "The main difference for me will be that now, my students will come from many different companies, all of them advanced on the Agile development path and all of them with many stories to tell. When I worked as an SPC, I was mainly helping organizations embrace and adopt the Scaled Agile Framework. A single organization at a time, a single transformation at a time. Now, we'll have at least as many cases to treat as there are companies present in the room."
Are You Experienced?
Asked what sets him apart as a trainer, he doesn't need long to consider. "The experience I can draw from. I've been a consultant in Agile transformations and SAFe for almost a decade, so I've seen my share and I have those cases ready in my mind at all times. More specifically, it's the transformations and SAFe adoptions that have failed that provide the most in terms of learning experience."
What are sources of failure that you see repeatedly?
"I see a lot of attempts where the teams get formed, but the resources don't get pooled to help them do their work. I used to think in the early years: we can get to that later. Let's first get professionals lined up, secure a commitment from management and whatnot. But it isn't like that. You need the whole package to get underway – people and resources and processes; and, and, and."
Another mistake is to allow management to stay out of the arena for too long. Yes, there's a bottom-up start to make. But you cannot govern what you don't understand. It's principles like that one that I learned through personal experience, so when I impart that theory to my students, they'll know there's a world of practice behind it."
---
More information?
If you're interested in becoming an SPC yourself, please refer to this page for details.