Fellow global educators with a long-term focus on quality and lasting Agility.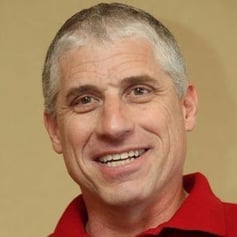 The meeting of the two CEOs Erez Tatcher and Miranda Goossens was brisk and clear. "There's so much we share; there's so much we stand to benefit. Time's a-wasting. Let's go!" The two companies have agreed to service the US, Europe and India together for the months to come. Each will leverage their strong trainer network and long-term commitment to quality.
Erez Tatcher is quick to list what attracts him about Gladwell Academy. "Your people move fast, but you're not in it for the quick win. That's not an everyday thing to see, and we see those values mirrored in our own. We're in it for the long haul as well, trying to provide clients with training that endures and business transformation to rely on."
AgileSparks: Origins
AgileSparks is an originally Israeli company that started in 2008 and grew up strong on the twin business proposition of technology and training. Today, their training division is still home to the same coaches that began the company: seasoned Agilists such as SPCTs Yuval Yeret, Vikas Kapila and Oded Tamir. They bring Agile frameworks such as Scrum and SAFe to clients all around the globe, with a focus on India and the US.
Go-get-'em
Miranda Goossens chimes in: "AgileSparks shares our focus and it feels natural to work together like this. It's still early days though, so while there's talk of all kinds of partnership, for now we're just sharing trainers in courses together. Our trainers Anand and Sathya are pairing up with their trainers, for example. We're already learning from each other: we're drawing from their experience, and I think they kind of like our go-get-'em attitude. Let's spread the word and see what the future brings!"
---
Upcoming courses together with AgileSparks:
RTE, Tel Aviv, 24 June
SAFe Release Train Engineer (4.6) / Tel Aviv / Yuval Yeret / 2019-06-24
RTE, New York, 16 July
SAFe Release Train Engineer (4.6) / New York / Yuval Yeret / 2019-07-16
Implementing SAFe, New York, 9 September
Implementing SAFe (4.6) / Boston / Yuval Yeret, Abram Janse / 2019-09-17
Implementing SAFe, Boston, 17 September
Implementing SAFe (4.6) / Boston / Yuval Yeret, Abram Janse / 2019-09-17